Last Updated on August 16, 2022 by bethrmartin
For the past few years, the Nugget play sofa has taken over Instagram and children's playrooms, and it's easy to see why.
Forget the days of stealing all the cushions from your sectional sofa to build a fort. The soft foam cushions can be used as a couch to watch tv, shaped into a mega castle, designed like a spaceship, set up like a playmat, or used to create an obstacle course.
The possibilities are only limited by your kids' imagination, making it a pretty perfect toy.
If you are looking for an option other than the play couch that started it all, this guide will help you find the best Nugget couch alternative.
So here we go!
Skip Ahead to the Best Nugget Alternatives↓
We're reader-supported. When you buy through links on our site, we may earn an affiliate commission.
What is the Original Nugget Couch?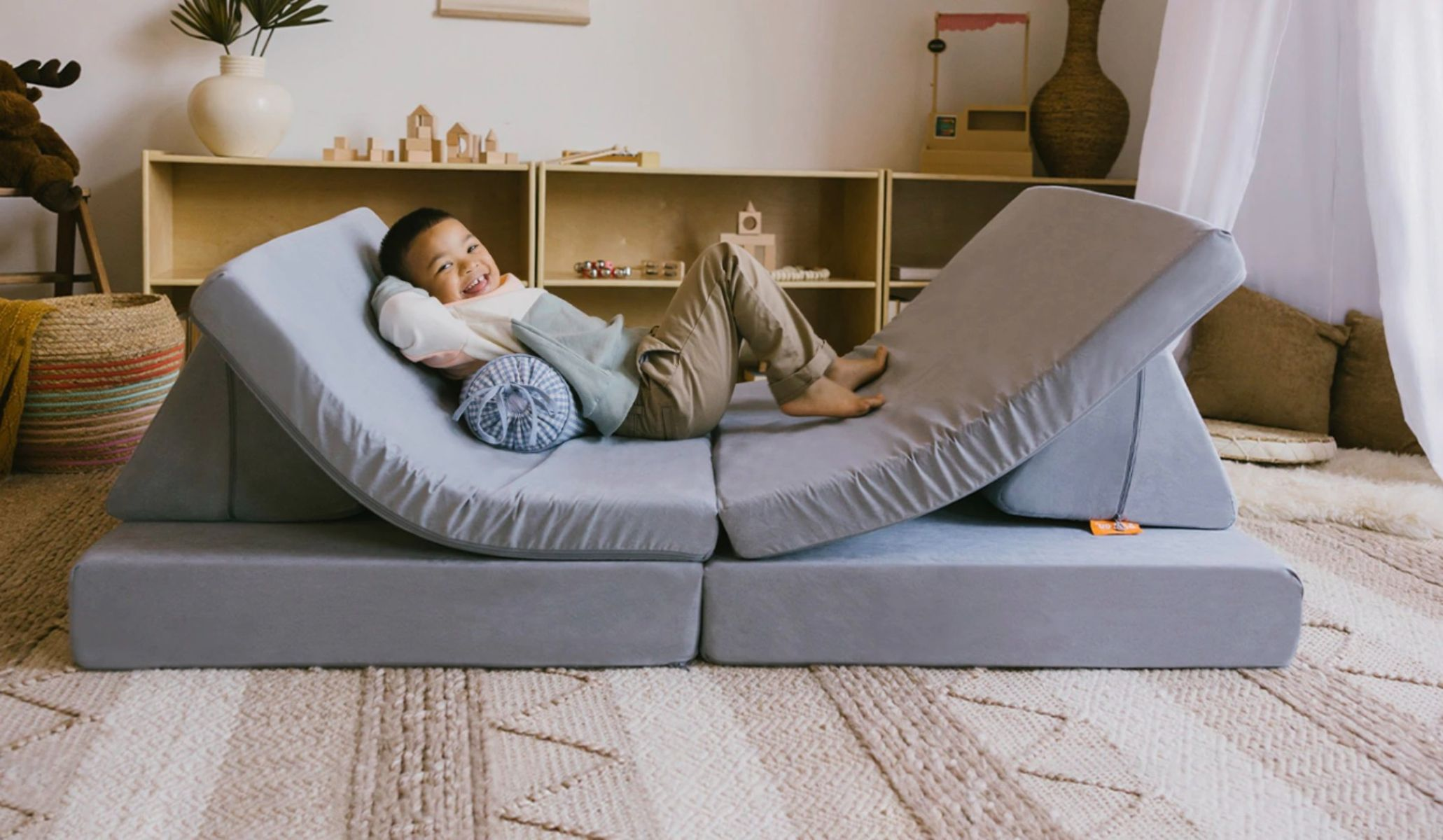 The original Nugget is a specific brand of play couch. It includes four foam pieces: a sturdy base, a soft cushion, and two triangle pillows.
The microsuede covers are easy to remove and machine washable, which is extra necessary for those playtime spills. There are three classic colors, tons of cute limited edition colors, and even some special edition patterns like Elmo or Toy Story.
The set is made of 4 pieces: 1 base, 1 cushion, and 2 triangle pillows
Available in 3 classic colors, 11 limited edition colors, and 5 special edition colors
Machine washable covers
No sharp corners
30-day trial
Free shipping
You can even combine multiple Nugget sets to create the ultimate play couch building block set!
Why Other Play Couches?
The original play couch is great, but many excellent brands make quality Nugget Couch alternatives.
If you are looking for something more unique, affordable eco-friendly, smaller, or even waterproof, this guide is for you.
Supply chain issues are also still an important factor. With everything in constant flux, it's not the worst idea to have a backup option when you are in the market for specific kids' toys.
So let's jump in and search for the best Nugget replacement.
What are the best Nugget Couch Alternatives for Your Little Ones?
​​Here are my top picks for the best Nugget Couch Alternatives on the market this year.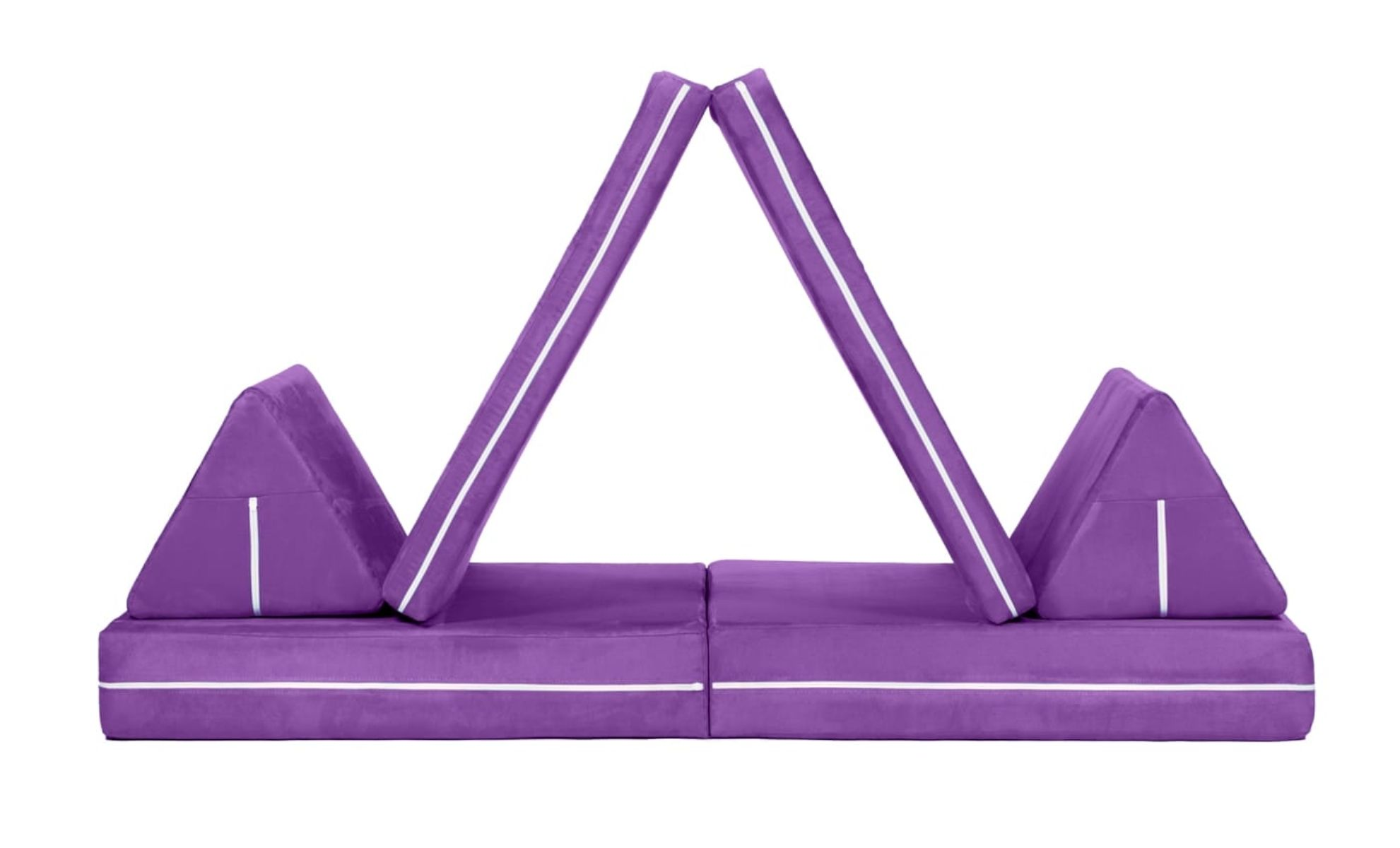 The Jaxx Zipline PlayScape is similar to the Nugget but with updated details. The zippers are hidden under the fabric so they won't get snagged on soft skin, and you can feel confident with the eco-friendly, made-in-the-USA foam.
With ten punchy color choices, you are sure to find the perfect choice that your kids will love. They also offer tons of clever accessories that will make your play couch selection the envy of all playrooms.
The set is made of 4 pieces: 1 top cushion, 1 bottom cushion, and 2 triangle-shaped pillows
Available in 10 solid cover colors
Easy to clean covers
Covered zippers are extra kid-safe
Made in the USA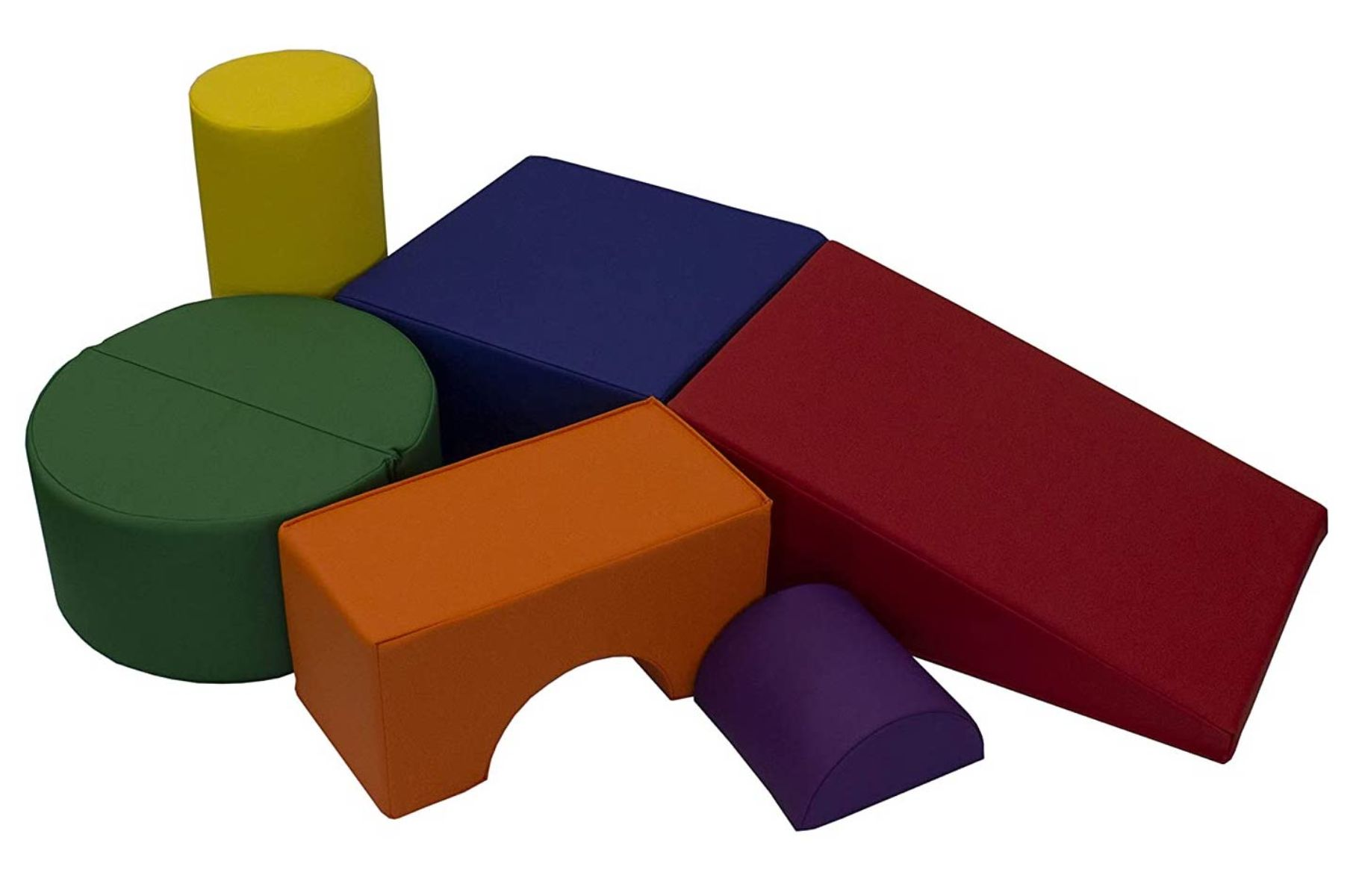 This set isn't exactly a play couch but a giant set of soft building blocks. Your kids can let their imagination run wild and build just like they would with blocks, and what is more fun than that?
You can't remove the covers on this set, but the material is a durable polyurethane that can easily be wiped clean. This set is on the smaller side and best suited for children under one.
6 piece set with unique cushion shapes
Available in five cover colors
Wipeable and water-resistant
Greenguard certified (gold)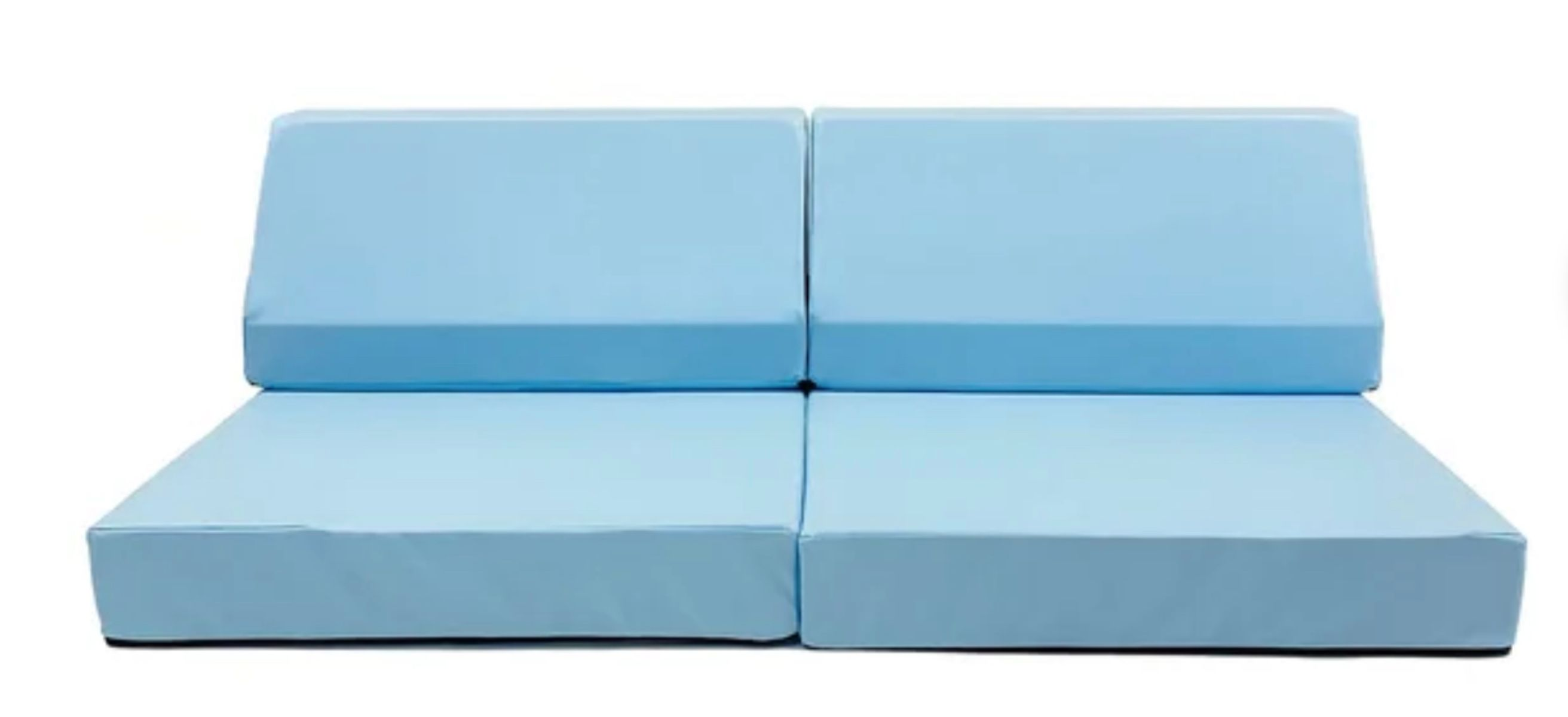 When you don't have room for an entire play couch, the Blocksy Mini is the perfect play chair and will offer just as much enjoyment for your kiddos. This compact chair only has one main base cushion, making it ideal for tight spaces.
The foam is more firm than other couch alternatives, so consider this before purchasing. This firmness is excellent for builders, but you might want to add an extra pillow for movie night.
The set is made of three pieces: one folding base and two wedge cushions
Great for small spaces
Available in nine colors
Made in the USA and part of a family-run company since 1952
Entirely handmade
Antimicrobial
Greenguard gold
Foam and vinyl construction
Additional accessories sold separately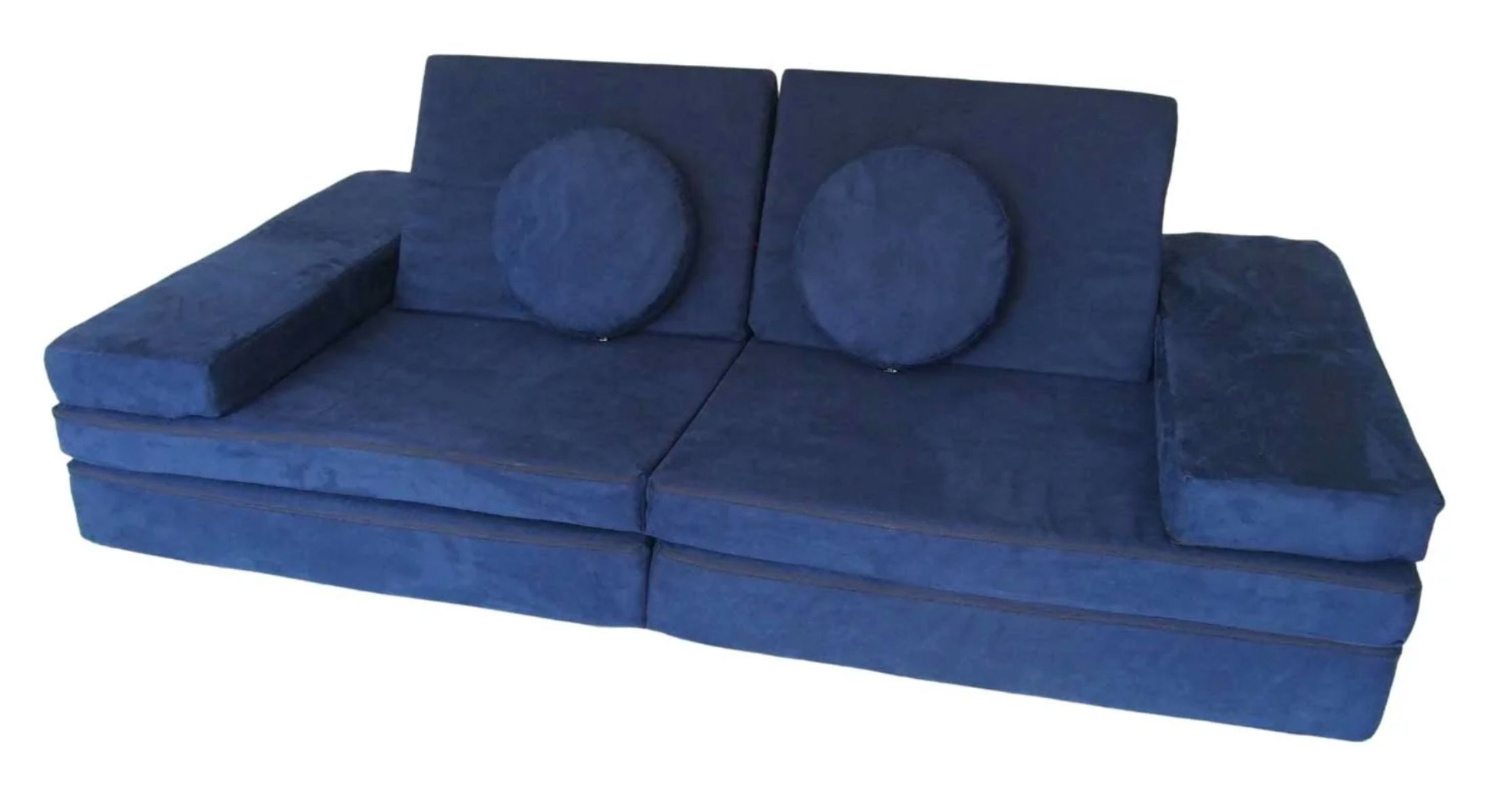 The Dundy is one of the best Nugget couch alternatives because it is just so similar to the original model. Dundy's machine washable covers are the same size as the Nugget, so they can be used interchangeably, which is super convenient if you have one of each version.
The main difference between the two is that the Dundy has round pillows instead of the two triangle cushions offered by the Nugget.
The Dundy also offers optional upgrades like an extra thick base cushion and waterproof liners. These improvements make this play couch extra durable, so you can worry less about those little accidents that are bound to happen, and your children can focus more on playtime.
Free shipping within the US on orders over $140
Each Play Couch includes 8 pieces
Available in seven cover colors
Dundy covers are the same size as the Nugget
Available with or without waterproof liners
The foam pieces are formaldehyde, lead, and mercury free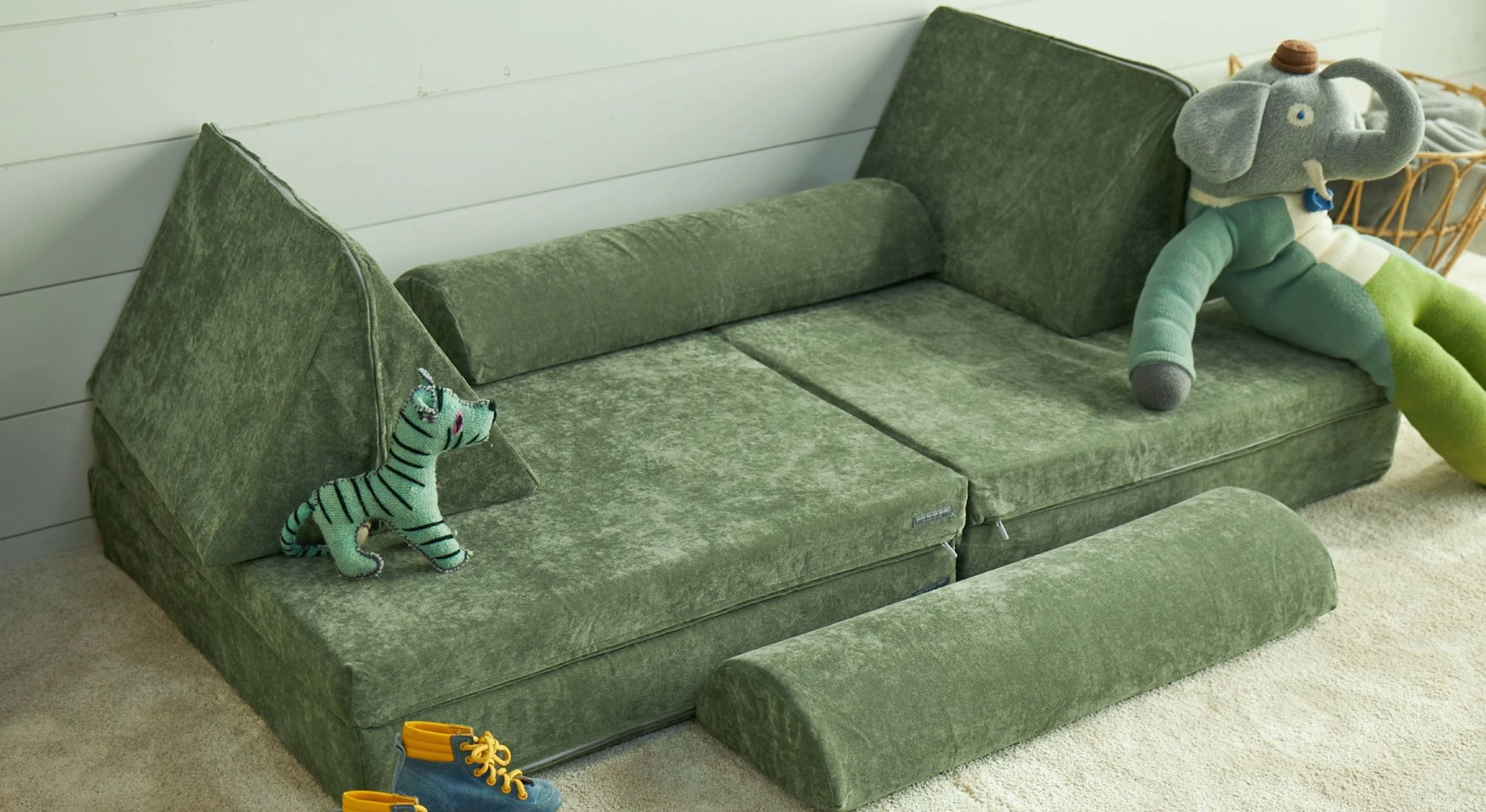 This play couch has six pieces (two more than the Nugget) and is chock-full of eco-friendly accolades. It is Greengard certified, formaldehyde-free, the fabric is made from recycled plastic bottles, and the company is 100% carbon offset and powered by 100% renewable energy – which is seriously impressive.
The cushions are made from high-density foam formulated with up to 20% BioFoam®, meaning it's made from vegetable materials. This gives a softer feel than the Nugget couch, making it extra comfy but not as sturdy for fort building.
6 available colors
Each play couch is made of 6 pieces
Covers are removable and machine washable
The only Greenguard Gold and Formaldehyde-Free claim verified play couch on the market
Awarded 2021 Best Tested Product by Good Housekeeping®
1-year limited warranty
They donate to the National Forest Foundation for every mattress sold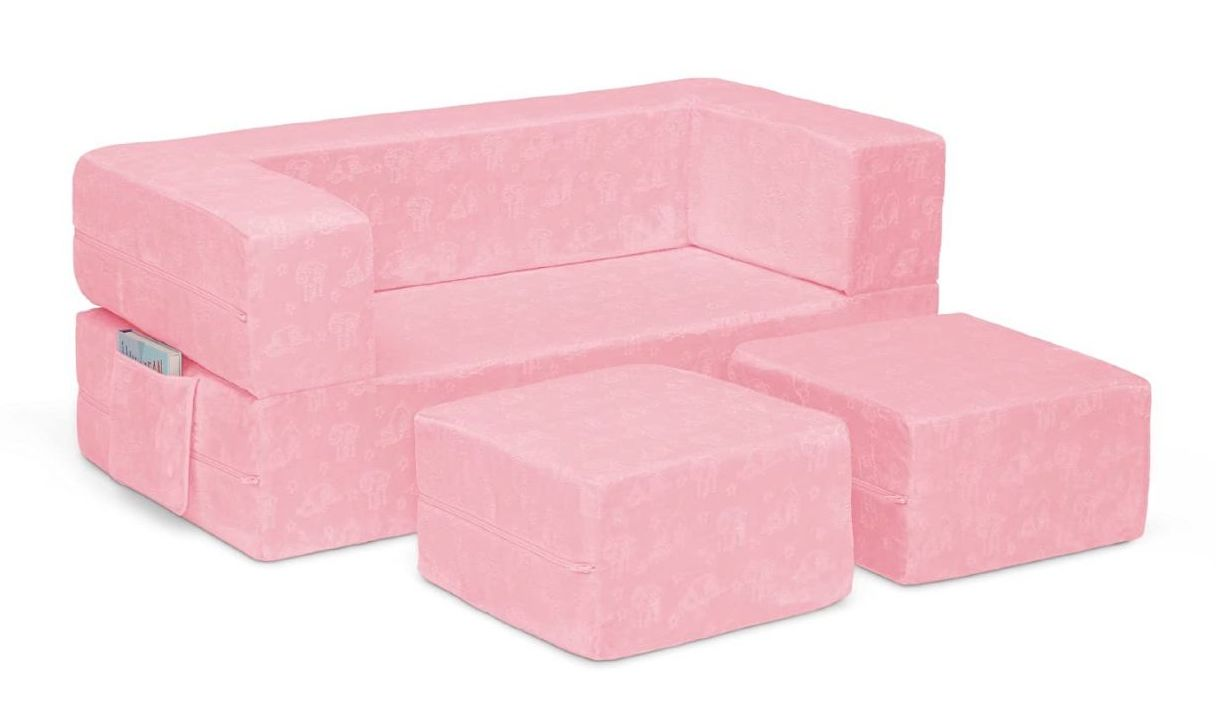 This kids' couch has fewer pieces than others on this list, but it's adorable, perfect for smaller spaces, and a great price for the set. It can be used as a couch with two ottomans, or when your children are done sitting, the sofa can flip into a play mat, and the fun begins!
If you are looking for a play couch that acts more like a piece of furniture, the Serta Perfect Sleeper is a practical and cute option for any kids' room.
The size is perfect for toddlers, and the couch will remain an entertaining piece of furniture as your child grows.
Available in 3 colorways: 2 solid options and 1 print option
Each play couch is made of 3 pieces
Slipcovers are removable and machine washable microsuede
The sofa has a side storage pocket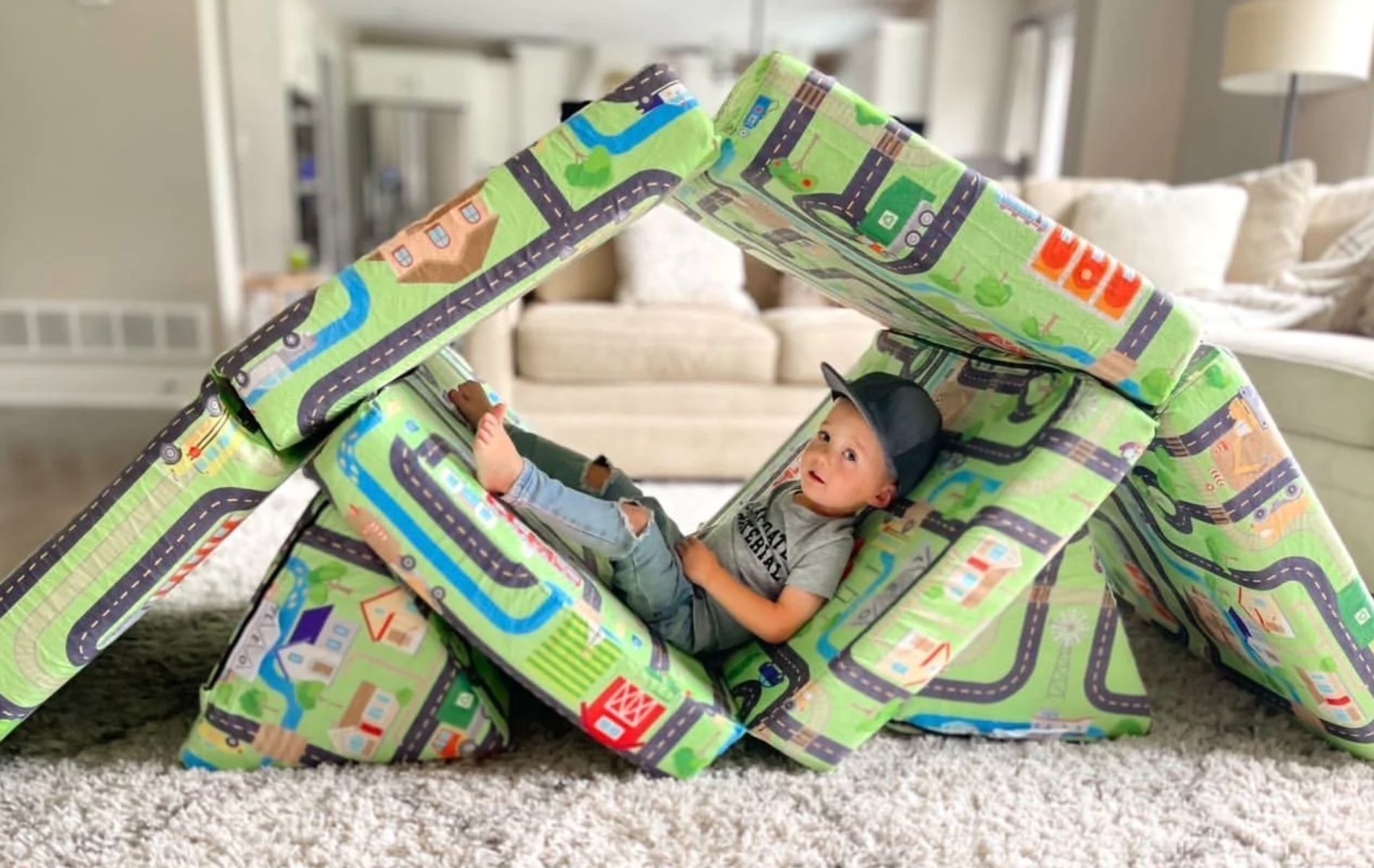 This kids' couch looks similar to the other kids' couch alternatives, but what sets this one apart is how the base mats fold. The Leo Mat uses a new design that folds like an accordion (they call it tri-fold technology). This means kids can play with it in even more ways, and when it's ready for storage, it will fit into an ultra-compact space.
The Leo Mat has some of the cutest patterns that encourage your kids to use their imagination. The Roads pattern is delightful and adds an entirely new element to the play couch idea by prompting children to see their play couch as a city. But don't worry, if solid is more your aesthetic, they have you covered in that department too.
The set is made of 4 pieces: 2 tri-fold mats and 2 triangle wedge pieces
Available in 18 colorways: 3 solid and 15 print options
Removable covers made from machine washable microsuede
Microsuede is double stitched with sturdy zippers
Free shipping in the US
Available waterproof cover (additional cost)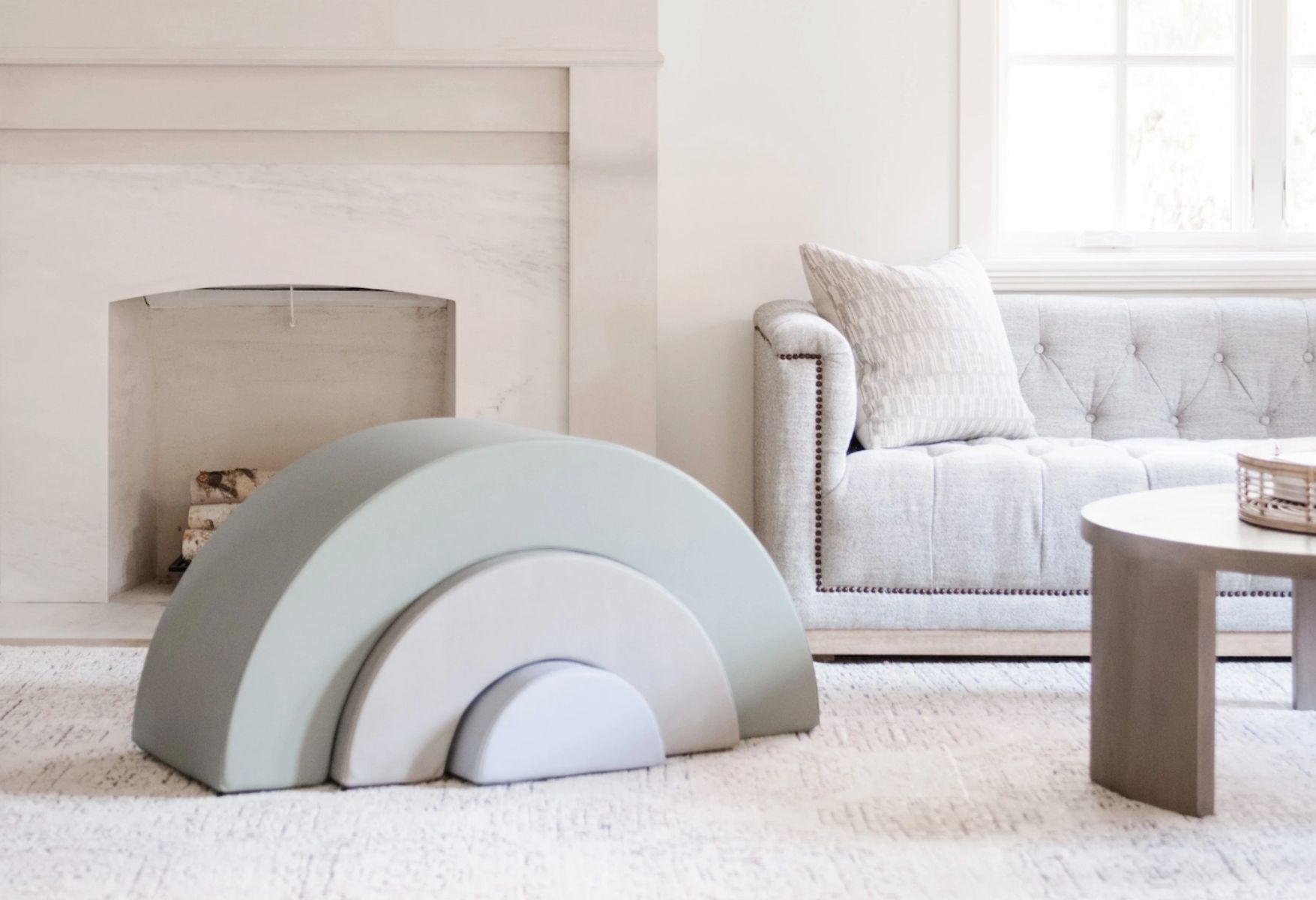 This adorable arc-shaped playset has three pieces that nestle together to create a cute rainbow form that will look like a modern sculpture in your living room. The colorways from Gathre are ultra-sophisticated, while the charming forms will evoke imagination, seesawing, and endless entertainment.
Play couches usually look pretty similar, but this one breaks the mold and goes in an entirely new direction with the design. A cushion play set has never looked so chic!
Available in 7 colorways: 5 solid options and 2 print options
Unique arc shaped design
Dimensions: 42″ x 16″ x 21″
Color swatches are available for purchase
Wipeable and water-resistant
100% vegan leather with cushy, solid foam interior
Ethically and responsibly made
Free of toxins, PVC, phthalates, and lead. CPSIA compliant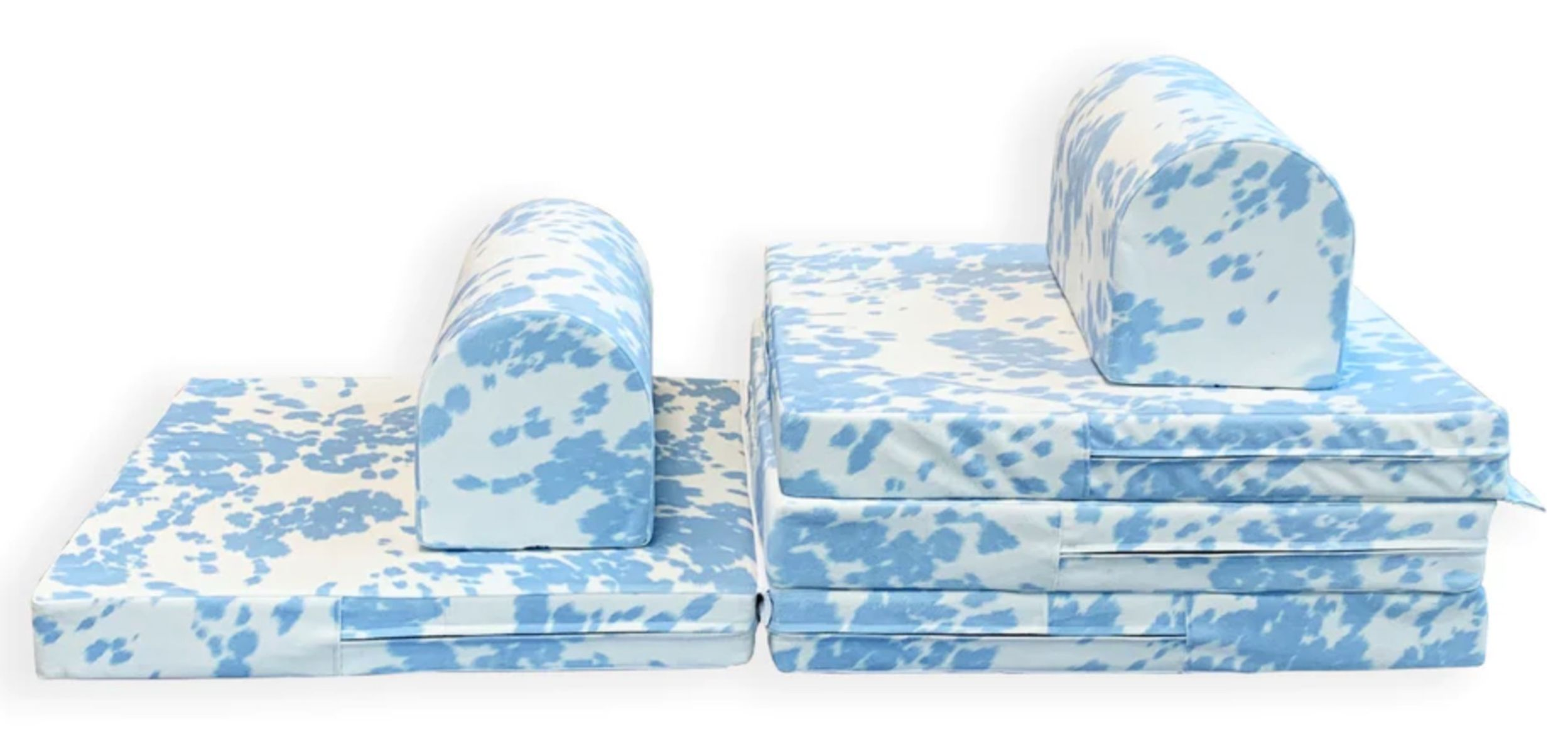 Athletic Equipment specializes in professional-grade mats for sports like rock climbing and gymnastics, so they know a thing or two about quality. The high shock absorbent foam used in their Crash Couch will give you peace of mind when your little ones are playing extra rough, and it's extra comfy when used for lounging.
The microsuede covers are washable, durable, hand-sewn, and come in three cute colorways. This is a great option if you prefer a product made in the USA.
The set is made of four pieces: 2 mailbox mats, 1 bi-fold crash mat, and 1 bi-fold throw mat
Available in 3 patterns
Handsewn microsuede covers can be spot cleaned or machine washed
Made in a woman-owned family business
Made in the USA
1-year warranty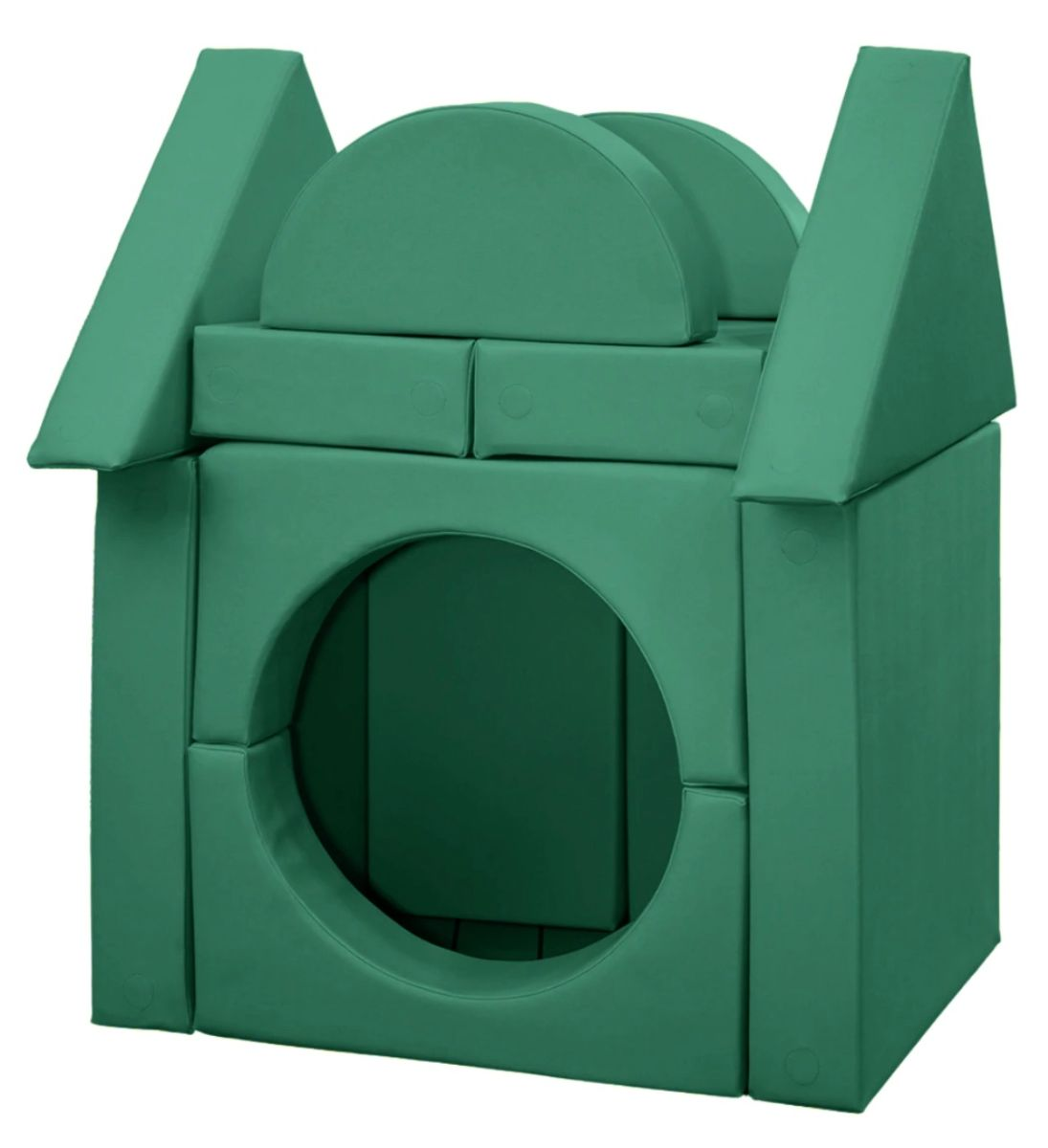 The Fort is such a clever set, and with a mindblowing twelve pieces, the configurations with this play couch are endless. The shapes offered in this design are extra innovative and will make castle building even more thrilling.
Another thing that sets this design apart is the addition of magnets. Rare earth magnets can hold each component together, which will allow your kids' play structures to be stronger, taller, and more exciting.
The set is made of 12 pieces: 2 half moons, 2 arches, 2 triangles, 4 rectangles, and 2 squares
Available in 5 solid colors
Magnets are embedded in each piece
Covers made from waterproof PU leather
Storage accessories sold separately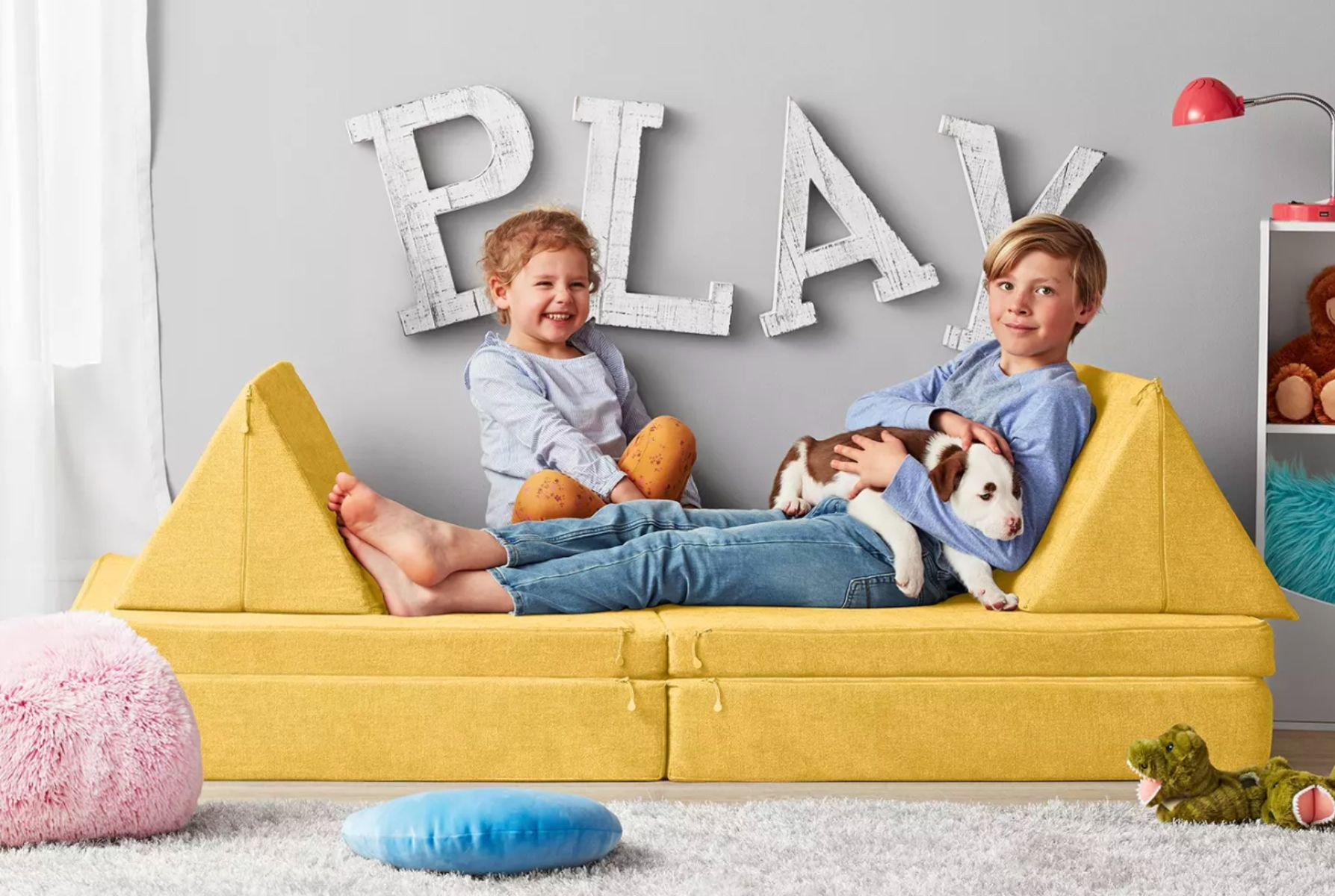 The Explorer Sofa from Sam's Club is a great budget alternative to the Nugget, but don't forget you will need a membership to purchase. If you already have a Sam's Club membership, this is a fantastic price, but if you need to buy one for this purchase, you aren't saving any money overall.
Some customers have issues with the zippers breaking, so consider what type of use this set will get before buying. Spot cleaning most of the time and only taking off the covers when necessary will most likely prolong the life of your investment.
Four cushion set: 1 base layer, 1 comfort layer, and two triangles
Available in 9 solid colors
Must have a Sam's Club membership
1-year warranty
This quality four piece set by Cushy Couch is specifically designed for playing outdoors. The fabric is extra durable and water-resistant for outdoor use, and the covers are removable and machine washable, which means endless entertainment for your kiddos.
The overall design of the Cushy Couch is very similar to the Nugget, and they both use the same base arrangement with two wedge pieces. This play couch offers convenient upgrades and attractive covers that will look fantastic on your outdoor patio.
Five different color combinations
Set is made of 4 pieces: 2 triangle pillows and 2 base cushions
1-year warranty
Removable covers are machine washable and are 99% recyclable
Hidden zippers
Made in Canada
Also available in an indoor version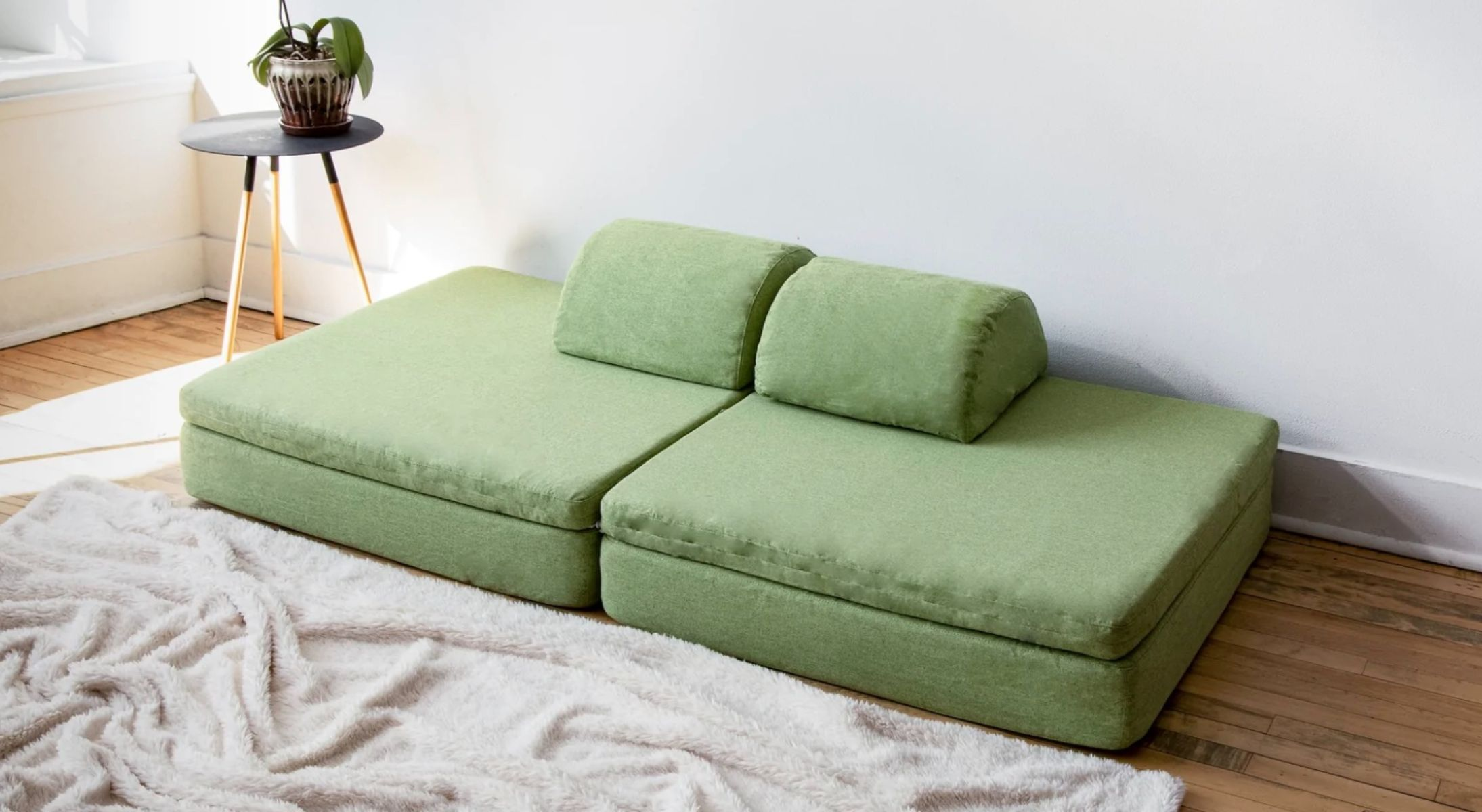 If you are looking for an affordable alternative to the Nugget Couch, then this play couch might be the right option for your family. The overall configuration is almost exactly the same four parts, and the covers are still removable, but the price is significantly lower.
You don't get as many color options with the Halo Cuties, and some customers complain that the zippers are unreliable.
4 Color options
Four pieces: 2 base cushions and 2 triangle pillows
No hazardous or flammable materials are used
Removable and washable covers
Conclusion
The original play couch has become an instant classic, but you can now see you have many great Nugget couch alternatives to keep your kids busy for hours.
For smaller spaces, I love the Gathre Arc Playset. Its chic design complements any decor, and the creative shapes offer so many options for creativity.
My ultimate recommendation on this list would be the Fort. This set offers the most number of components, the most creative shapes, and the addition of magnets is very inventive. It's an investment, but it's made to last and be the hit of the neighborhood.
Overall, these play couches will bring so much joy and entertainment to your family you can't go wrong.
Would you choose the Nugget or one of these other options?