Last Updated on November 15, 2022 by bethrmartin
For the past few years, the Nugget play sofa has taken over Instagram and children's playrooms, and it's easy to see why.
Forget the days of stealing all the cushions from your sectional sofa to build a fort. The soft foam cushions can be used as a couch to watch tv, shaped into a mega castle, designed like a spaceship, set up like a playmat, or used to create an obstacle course.
The possibilities are only limited by your kids' imagination, making it a pretty perfect toy.
If you are looking for an option other than the play couch that started it all, this guide will help you find the best Nugget couch alternative.
So here we go!
Skip Ahead to the Best Nugget Alternatives↓
We're reader-supported. We may earn an affiliate commission when you buy through links on our site.
What is the Original Nugget Couch?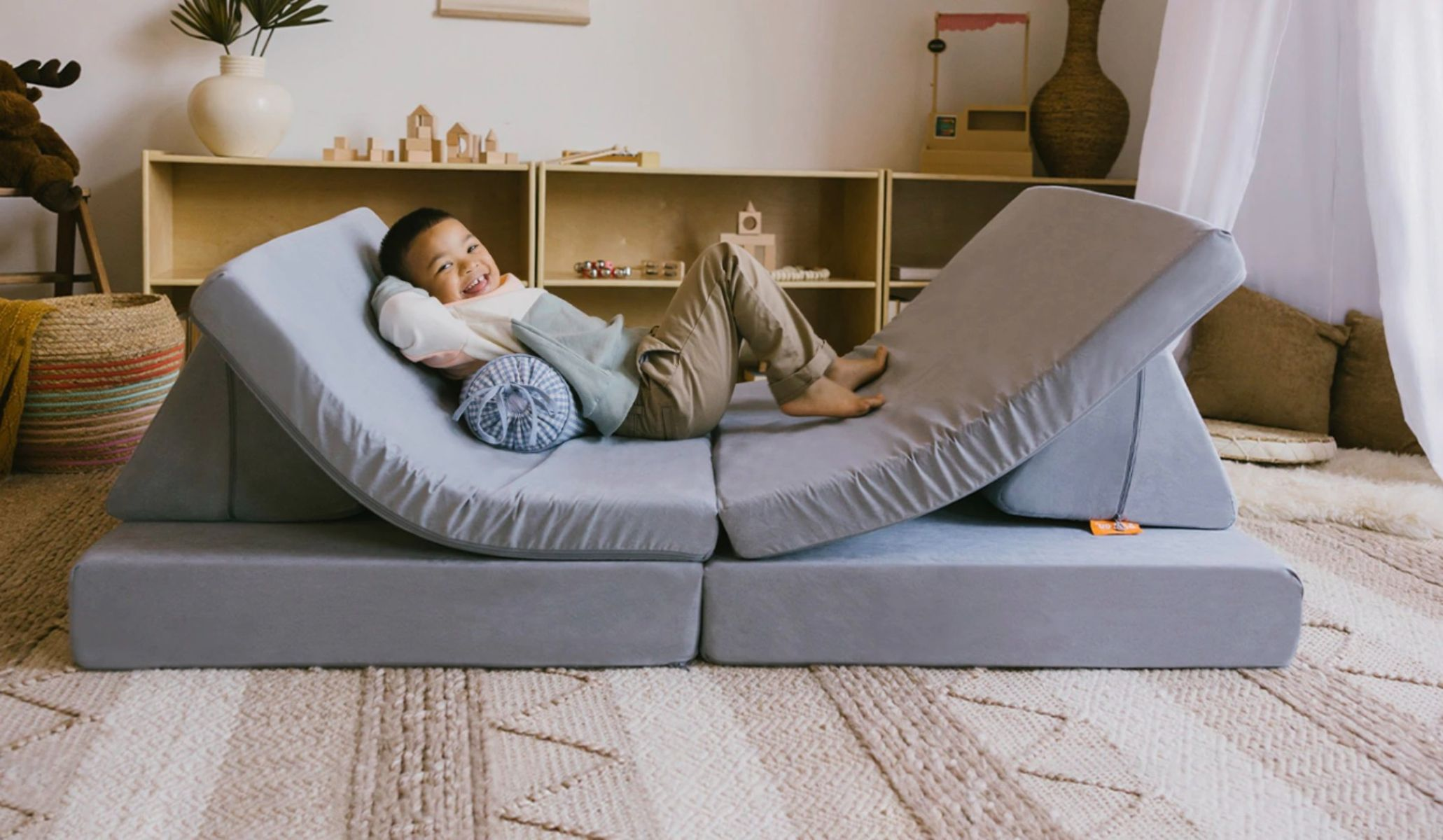 The original Nugget play couch is a specific brand of play sofa that has exploded in popularity. It includes four foam pieces: a sturdy base, a soft cushion, and two triangle pillows.
The microsuede covers are easy to remove and machine washable, which is extra necessary for those playtime spills. There are three classic colors, tons of cute limited edition colors, and even special edition patterns like Elmo or Toy Story.
The set is made of 4 pieces: 1 base, 1 cushion, and 2 triangle pillows
Available in 3 classic colors, 11 limited edition colors, and 5 special edition colors
Machine washable microsuede covers
No sharp corners
30-day trial
Free shipping
You can even combine multiple Nugget sets to create the ultimate imaginative play couch building block set!
Why Other Play Couches?
The original play couch is great, but many excellent brands make quality Nugget Couch alternatives.
This guide is for you if you want something more unique, affordable, eco-friendly, smaller, or even waterproof.
Supply chain issues are also still an important factor. With everything in constant flux, it's not the worst idea to have a backup option when you are in the market for specific kids' toys.
So let's jump in and search for the best Nugget replacement.
​​Here are my top picks for the best Nugget Couch Alternatives on the market this year.
The Jaxx Zipline PlayScape is similar to the Nugget but with updated details. The zippers are hidden under the fabric so they won't get snagged on soft skin, and you can feel confident with the eco-friendly, made-in-the-USA foam.
With ten punchy color choices, you will surely find the perfect choice that your kids will love. The Jaxx Zipline also offers many clever accessories that will make this a versatile play couch and the envy of all playrooms.
The set is made of 4 pieces: 1 top cushion, 1 bottom cushion, and 2 triangle-shaped pillows
Available in 10 solid cover colors
The Jaxx Zipline has easy to clean machine-washable covers
Covered zippers are extra kid-safe
Made in the USA
Available in 3 colorways: 3 glow-in-the-dark print options
Each play couch is made of 3 pieces
Slipcovers are removable and machine washable microsuede
The sofa has a side storage pocket
Conclusion
The original play couch has become an instant classic, but you can now see you have many great Nugget couch alternatives to keep your kids busy for hours.
My ultimate recommendation on this list would be The Figgy. Since they have added waterproof liners and covered zippers, this set costs more, but the benefits far outweigh the cost. It's an investment, but it's built to last and be the hit of the neighborhood for kids of all ages.
If you are on a budget, you can't beat the price of the Explorer sofa as a Nugget alternative. The components are almost the same as the Nugget, and while they might not be the same quality, you will definitely get your money's worth.
Overall, these play couches will bring so much joy and entertainment to your family you can't go wrong.
Would you choose the Nugget or one of these other options?