Last Updated on May 4, 2023 by bethrmartin
If you're a design enthusiast, then you know that leather furniture can add a touch of luxury to any room. But do you know how to differentiate between good and bad quality leather?
In this blog post, we'll explore three different types of leather used in furniture making, as well as a few types of imposters.
With this knowledge, you will be a more informed buyer and be able to purchase your next piece of furniture with the confidence that you are getting the best product. So whether you're looking for a new modular sofa or office chair, read about the different leather types!
Skip Ahead to the Different Types of Leather↓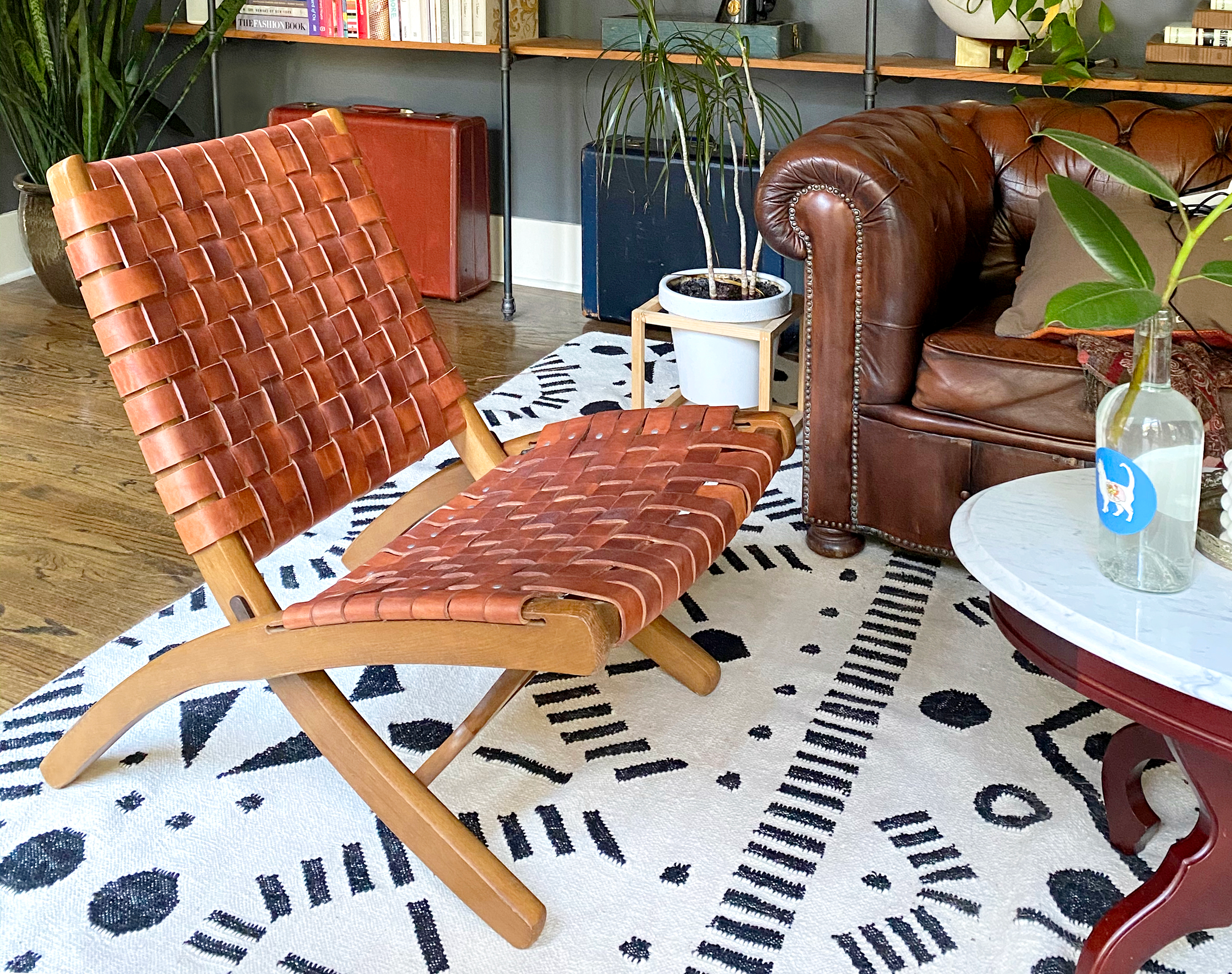 What Is Leather?
Before we go too far, let's get one thing out of the way. Leather is crafted from the skin of animals. If that makes you feel icky, then maybe you should skip to the best vegan options below.
Leather is an exquisite material that is strong and flexible. It is created through the tanning of animal hides. The process of leather making has been practiced for over 7,000 years and can be used for an incredibly wide variety of goods.
Whether it's cow leather, goat leather, or sheep leather, this material is known for its durability. If cared for properly, leather products can last for decades. This makes it the ideal material for upholstering furniture, and that's why so many furniture manufacturers use it.
3 Different Types Of Leather Found On Furniture
1. Full Grain Leather
Full grain leather is considered the best quality due to its strength and unique characteristics. This leather is made from the top layer of the hide, making it exceptionally resistant to wear and the most durable among all leather varieties.
Before a full grain hide goes into the tanning process, only the hair is removed, creating a material that shows the natural grain pattern and all the unique characteristics. Over time, the leather surface will develop a rich patina, meaning the distinctive sheen, texture, and color that only gets more beautiful through natural wear and age. It adds a certain level of charm and character, creating a truly one-of-a-kind piece.
One of the benefits of using full grain leather is its ability to withstand the test of time when cared for properly. It's a natural material that holds up well and absorbs dyes beautifully, resulting in rich, vibrant colors that look great even with extended use and exposure to UV light.
If you see furniture produced with a full grain hide, you will know it is made with the finest materials.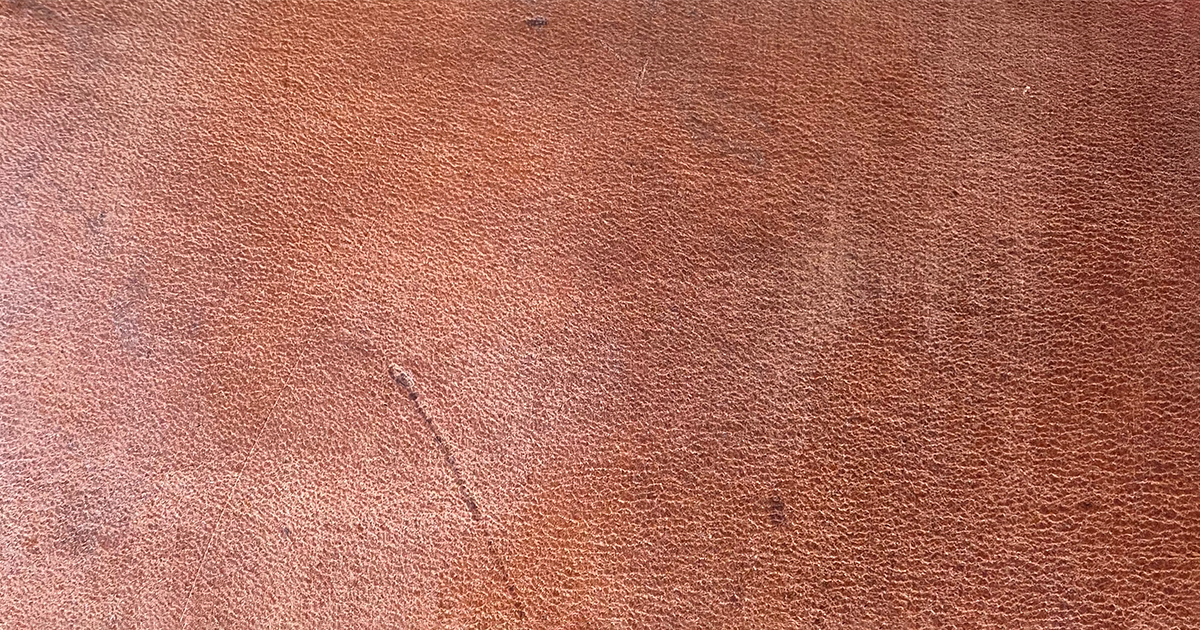 2. Top Grain Leather
The next best quality is referred to as top grain leather. Top grain is a very high quality leather and is often used in applications where you don't want to see as much texture on the surface of the leather.
This type of leather removes the outermost layer of the hide, leaving a smooth surface. Top grain leather requires a finishing coat that helps protect against signs of wear and other stains that can easily mar full grain leather products. However, keep in mind that this refinishing process impedes the leather's ability to breathe and prevents it from developing a lovely natural patina over time.
Top grain leathers are still durable but will stretch more than full grain.
Nubuck leather is a type of top grain leather that has been treated with a unique process to give it a soft, velvety finish. The leather's top surface is sanded to create a fuzzy, almost suede-like appearance. But don't be fooled by its similarity to suede – nubuck leather is actually of higher quality and durability than suede.
3. Genuine Leather (Or Split Grain Leather)
Genuine leather might sound like you are getting something great, but it actually means it's the lowest quality. This type of leather comes from the hide's lowest section and is also known as split grain leather. Of the three leather grades, genuine leather is the least durable, cheapest, and poorest quality.
The lowest layer of the hide is made up of the loosest fibers, meaning genuine leather will stretch the most and not hold its shape. It does not absorb dyes as well top grain and full grain leather, and it can be prone to cracking.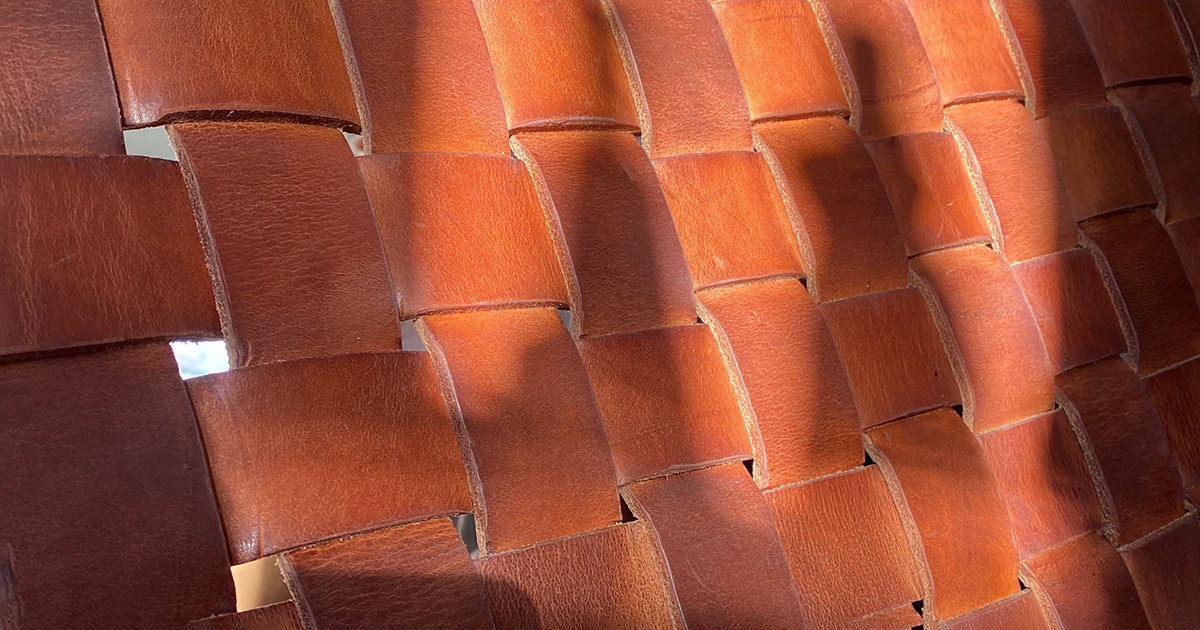 3 Types Of Fake Leather Found On Furniture
1. Bonded Leather
Bonded leather is not actually leather at all. It's an inferior material that can be made from low-grade hide or scrap leather. It is produced by adhering several pieces of low-grade hide to the top side of a cheap fabric backing, such as Polyurethane.
The resulting product has some of the texture and appearance of natural leather but lacks durability compared to genuine leather due to its compromised fibers. Bonded leather tends to be more affordable than real leather if used in furniture while maintaining some semblance of its overall look and feel.
When bonded leather ages, the layers will start to separate and peel. Once this happens, there is no fixing it, so you will have to reupholster your item or throw it away.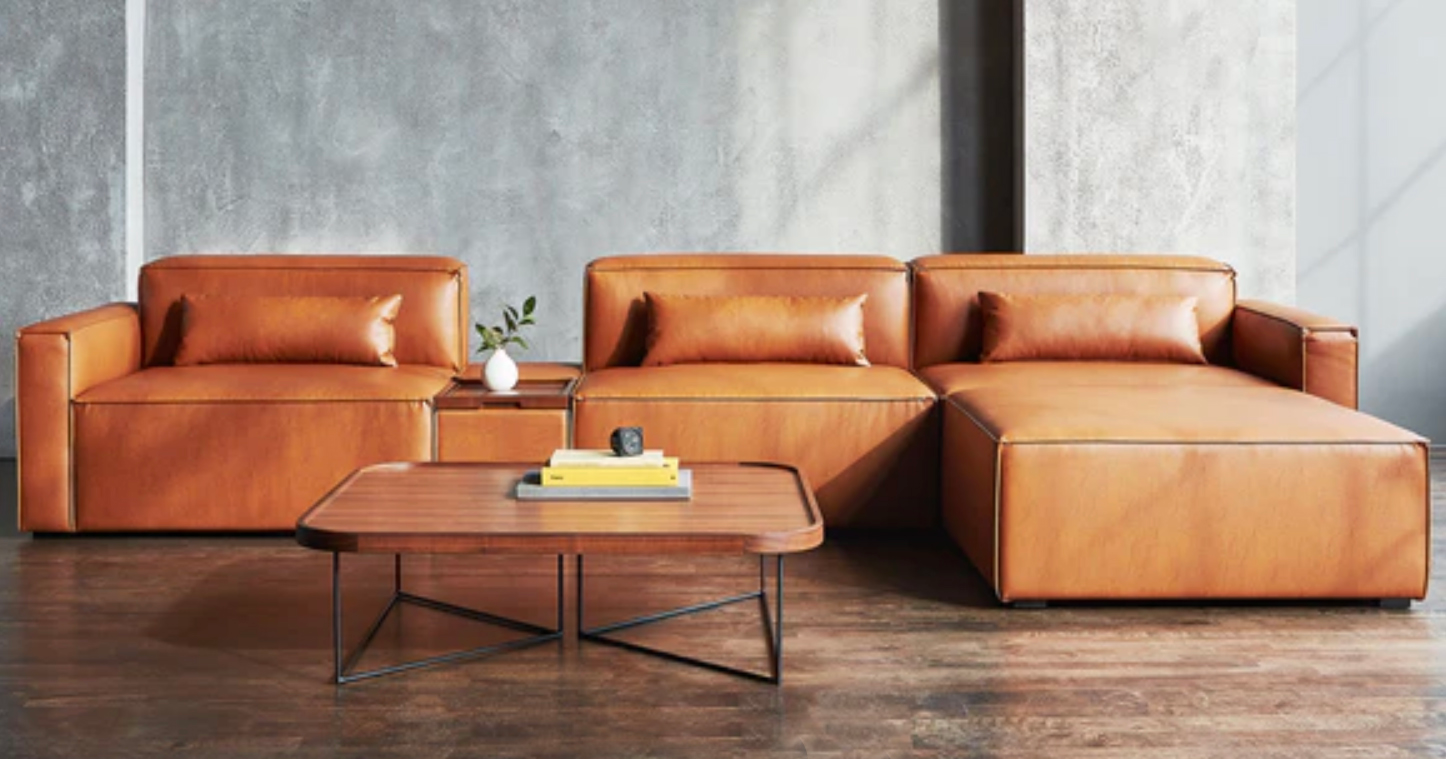 2. Vegan (Or Cruelty-Free) Leather
Many imitation types of leather are available today, but not all faux leathers are created equal. In fact, most artificial leather is actually just plastic (more on that below).
Some modern companies use fantastic alternatives to grain leather that are created from natural, plant-based materials. The photo above shows a beautiful, modern sectional from Gus Modern that is made of imitation leather produced from apple skins.
Not only is this cruelty-free, but this is also a fantastic sustainable alternative to traditional leather. These products are harder to find than other synthetic leather alternatives and are priced similarly to real leather.
3. PU Leather
Synthetic leather goes by many names, such as PU leather, PVC leather, pleather, or faux leather. At the end of the day, they all mean one thing – plastic.
The material can be called "vegan leather" because it's cruelty-free, making it sound more sustainable. But if the item is made from plastic, the opposite is true.
Fake leather has come a long way since the days of pleather, and many variations look like natural, soft leather. Faux leather can come in almost any style, but it is nowhere near as durable as real leather, and the finish will not last.
Like bonded leather, PU leather can't be repaired once it fails. Then this plastic will end up in a landfill, and it will be there for quite some time…
Since PU leather is just plastic, it is significantly cheaper than authentic leather. The plastic-like coating also makes this type of furniture very easy to clean and maintain.
3 Types Of Finishes Found On Leather
1. Aniline
Aniline is a translucent finish showing the leather surface's true quality and natural characteristics. Aniline leather is the most natural form of leather and will show natural imperfections, such as scratches and blemishes.
An aniline finish is most often used on the best quality leather.
2. Semi-Aniline
Semi-aniline has a bit of pigment added to the finish, but the leather quality will still be apparent. This type of finish is slightly more durable than aniline and will help resist stains.
3. Finished
This type of leather has been heavily coated in pigment and coating, so none of the hide's natural flaws can be seen. This is better for lower quality, cheap leathers where you don't want to see the imperfections. A solid, uniform color is achieved with finished leather, making it more durable and easier to keep clean.
Finished leather is often used on low quality, cheap leather, like splits, to cover up the look of the loose fibers.
Whatever type of leather you choose, proper care should be taken to protect its longevity. Regular cleaning and conditioning can help extend the life of your favorite piece for years to come.
Final thoughts
Leather is a popular material for furniture, and there are many different types of leather to choose from. Full grain leather is the most durable and expensive of the options, while fake leather, such as bonded or PU, offers a cheaper alternative with lesser quality.
If you are looking for a great quality piece of furniture that will be part of your home for many years, I highly recommend purchasing the highest quality leather grade you can afford. If you prefer a cruelty-free option, look for something eco-friendly that is not made of PU or plastic.
No matter what type of leather you choose, proper care should be taken to ensure its longevity. Regular cleaning and conditioning can help extend the life of your favorite item so it can be enjoyed for years to come.
With the right know-how and proper care, any piece of leather furniture can look great for years to come! So, when it comes to selecting new furniture pieces for your home, whether a chic sofa, an expensive authentic designer chair, or a replica Eames lounge chair, you'll be able to make a well-informed decision and choose the perfect type of leather for your taste and lifestyle.